YES! Time for Chit Chat with the New iOS App
Mike Evanisko
Quarantine has you stuck indoors, in your PJs and don't fancy talking much? It's not surprising you would rather chat than have to video or voice call colleagues or clients. The new 3CX iOS App has you covered, with a multitude of chat features and options to message your teammates, groups, and web visitors. Keep up with your conversations without being tied to your PC. Move around and get chatting from the kitchen, sofa, or bathroom!
Make it Fun with Rich Chat Conversations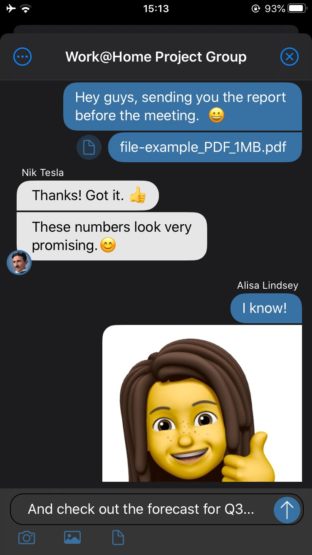 Get the new iOS App (Beta via TestFlight) to juggle your chat discussions on your Apple device:
Chat Direct – Just tap on "Chat" and select "+" to start a new chat conversation or reply to an existing thread.
Group Chat – Want to open a discussion with your team? Tap on the "+" to start a new chat and select the extension numbers or names of your colleagues to include. Tap "Next" to name your discussion group and tap on "OK" to start chatting! Messages sent in group chat are received by all participants, keeping everyone on the same page.
Send Photos & Documents – Share photos and documents with colleagues, groups, and web visitors. Files shared via chat can be accessed through the Web Client, for easy transfer onto the desktop.
Emoji Magic – Some things are best conveyed through emojis. Just tap to insert any Emoji or Memoji supported by iOS and lighten the mood!
Get Chatting to Your Website Visitors
Keep the communication lines with your web visitors open. If you are using 3CX Live Chat & Talk on your web site you can use the new iOS App to effortlessly handle incoming messages. Respond to web visitor messages sent to a queue and tap on the "…" menu to take ownership, transfer, or archive the discussion. Once you're done chatting with a Web Visitor, they can choose to call you or switch to a video call.