New iOS Beta with Voicemail Indicator & Improvements
Mike Evanisko
Another iOS App Beta with UI updates and fixes propels the app closer to release! The latest Beta builds on user-friendliness with a new voicemail indicator, new recent call icons, and more refreshed UI elements and fixes.
Make sure you join the Beta testing team so you don't miss out on these and many more upcoming new features. You just need an Apple device running iOS v13.2+ and your PBX to be on the latest v16 Update 5 to start testing!
You've Got Voicemail!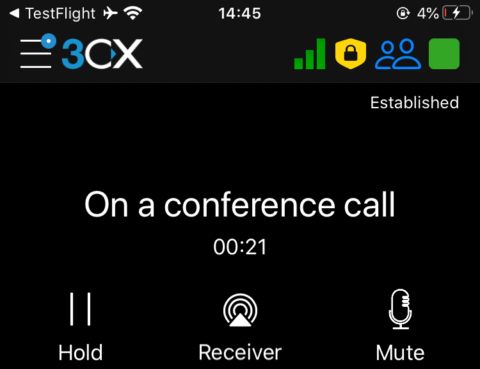 The latest iOS App Beta delivers a refreshed UI with new icons and usability features:
New Voicemail Indicator – Get notified at once of new voicemails. The top-left indicator will display a blue circle showing that you have a new voicemail to attend to. This is visible from all the main app views.
New Call Icons – Easily distinguish between answered and missed calls through new call icons found in "Recents".
Conference Reminder – When in an active conference call, the dial pad view presents the message "On a conference call" to help you distinguish it from a normal call.
Audible Reconnection – Ensure your full message gets through to the listener. Now including an audible notification that your call was re-connected, confirming you haven't been cut off mid-sentence!
Other Updates & Fixes
Lower touch-tone volume, optimized for more quiet operation.
Updated top bar icons for better appearance.
Fixed the dial pad view layout on iPads for better positioning.
Fixed call-waiting sound notification.