iOS App Release Candidate Ready for Final Try-Outs
Mike Evanisko
In preparation for the final roll-out of the new iOS App, we are releasing the Release Candidate via TestFlight. This RC version includes visual improvements as well as further fine-tuning of the new video calling feature.
To try the new RC version you need an Apple device running iOS v13.2+ and your PBX to be on the latest v16 Update 5! Be sure to join our Beta testing team and send us your feedback.
What's Included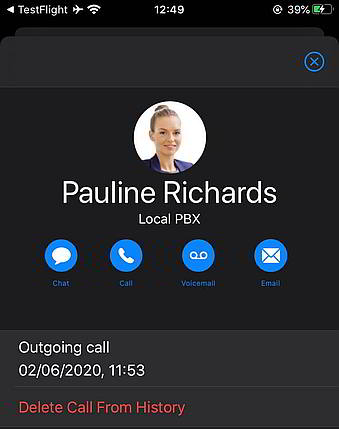 The Release Candidate version most notably includes:
Revised Contact Details View – The contact type is now added below the name in the contact's details view to denote where it belongs, e.g. a PBX extension, a CRM or Office 365 contact. Check that you have the right contact at first glance!
Improved Recents View – More visual improvements have been added to the recent calls list and call detail view.
Video Calls Update – Further improvements of the new video calling feature.