Hotkeys & Popup Chat with the New 3CX Browser Extension
Mike Evanisko
The latest 3CX Browser Extension for Chrome and Edge (Chromium) is now available via the Chrome Web Store and Microsoft Edge Addons. The extension allows you to easily manage calls from your desktop with a mini web client pop-out, which notifies you of incoming calls and chats.
The latest version adds hotkeys; which allow you to use keyboard shortcuts to respond to calls easier and faster.
Manage Calls Faster with Hotkeys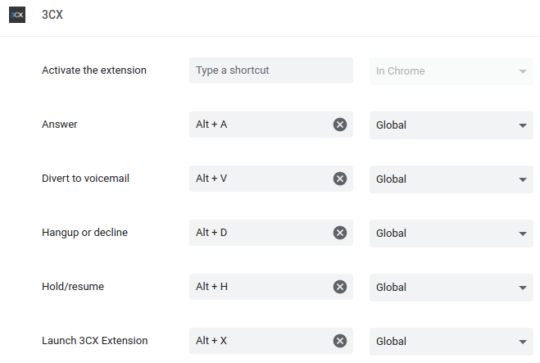 The latest 3CX extension adds support for keyboard shortcuts used to launch the extension and to manage call actions (answer, decline, hold/resume, divert to voicemail). Hotkey combinations help you manage your calls faster, and they can be set to apply on the browser or OS level.
Never Miss a Chat
Get notified of incoming and unread chats and simply click on "Chat" to read and respond to messages" in the Web Client. At a glance, you can notice incoming chats through:
Message previews via Chrome's pop-up Web Notifications.
The blinking extension icon that signifies new messages.
UI Updates
Light Theme – Choose the added "Light" white-based theme for a brighter UI.
Settings in Extension UI – Adjust the settings right from the 3CX Browser Extension, decoupling the extension from the Web Client.
Requirements & Known Issues