Get a Sneak-peak of New Features. Join the 3CX iOS Beta Program
Mike Evanisko
New, improved, and exciting features keep coming out with our back-to-back iOS Beta App releases. To be able to keep up the good work we need to continue to receive your feedback on our beta releases to advance the new App to its production-ready target.
Get to Experience it First!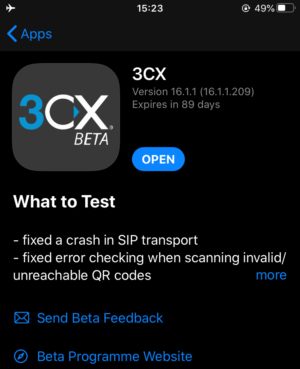 If you haven't joined the iOS Beta testing team, do it now and get first-hand experience of video calls, conferencing, enhanced chat options, and more. You just need to be on the latest v16 Update 5 PBX version and:
Open the 3CX iOS App TestFlight invitation link.
Tap on "Install" or "Update" to get the latest Beta App version on your iOS device.
Once you install the Beta App, you'll get notified when each new Beta version is released so you can upgrade and get early access to the latest and greatest features!