911 What's Your Emergency? V16 Update 5 Alpha Responds with Emergency Number Options
Mike Evanisko
3CX Update 5 Alpha is the first response to the upcoming emergency service rules in the US and the EU. The changes ensure emergency response centers automatically receive critical information for calls made to emergency numbers. To assist you on the way to full compliance, Update 5 Alpha introduces new Emergency Number options. More info below on how to use these options and be more prepared for emergency incidents.
New Emergency Number Options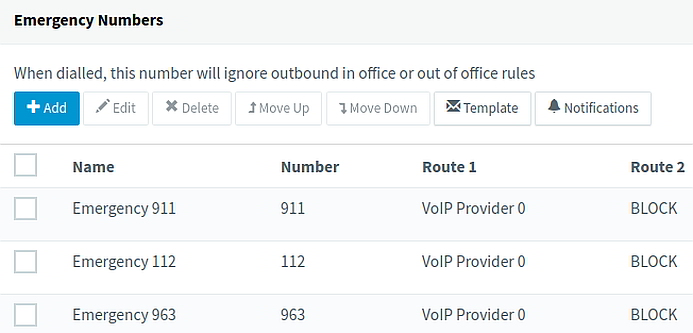 To configure the new Emergency Number options, go to "Settings" > "General" > "Emergency Numbers" section and:
Add Emergency Numbers – Add and manage your local emergency numbers here. For each emergency number, you can set extension and/or group filtering criteria and SIP trunk routes.
Add Message Template – Used for chat and email notifications when an emergency response number is dialed. You can edit the template using the parameters provided, to fit your organization's requirements. You can also add more info, such as location, responsible contact person, etc.
Set Notifications – New emergency number notification settings, used when a call to an emergency number is made, and include:

Email notification to multiple recipients.
Notification via chat with group managers and group members.
Custom audio prompt announcement to an extension or ring group.
For more info use the comprehensive "Emergency Number Management" section in our PBX management guide.
Emergency Use Cases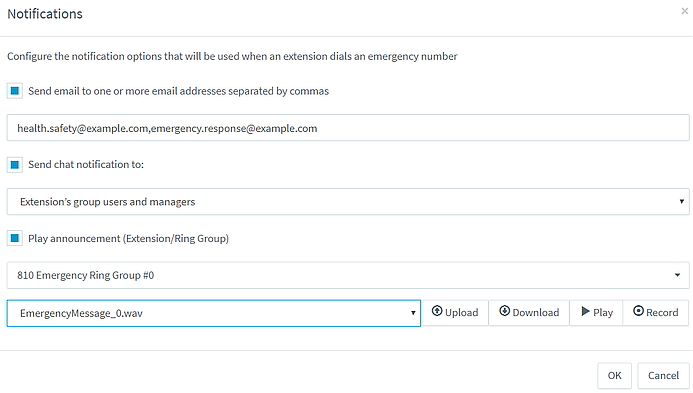 To better understand how these new Emergency Number options can be used, consider these incident examples as use cases:
An employee in distress calls an emergency number and reports an incident. Immediately after making the emergency call, the PBX notifies the Health & Safety manager selected as the group manager in the configured "Notifications" options. The manager can subsequently call back the employee to offer assistance or get more info on the situation and notify others.
An employee calls an emergency number to report a fire that just broke out. The configured options are set to notify group managers as well as users. The notification is sent via chat and/or an announcement call, with instructions to all recipients to evacuate the building until further notice.