7 Reasons You Need Compliance Recording for Microsoft Teams
Mike Evanisko
Recording Microsoft Teams
Are you using Microsoft Teams to connect to your customers? Without a doubt, you're seeing benefits from migrating to Microsoft's all-encompassing interaction platform. But what about your compliance practices? Though Microsoft Teams excels at customer service connectivity and interaction, you'll still need a crucial additional component, like Atmos by CallCabinet, to record your customer calls and meet all of your industry's compliance laws.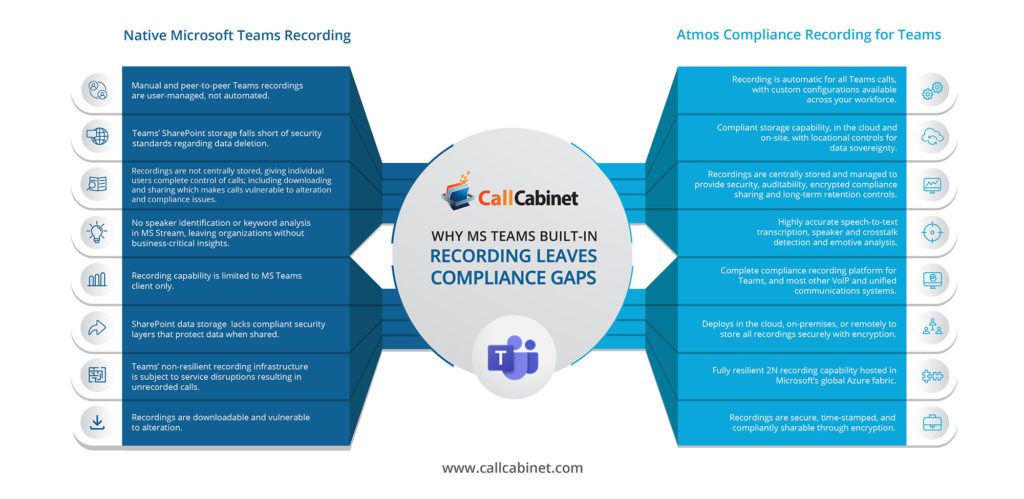 Microsoft Teams Compliance Gaps Infographic
Why does Microsoft Teams need compliance recording?
Teams is an outstanding, full-featured meeting and interaction package. It even features a basic recording function; however, it was never made to function as a compliance platform. This article we'll go over the 7 most important reasons you need a compliance recorder for Microsoft teams.
1.Teams recordings are user-managed
When using Microsoft Teams, all recordings, whether manual or peer-to-peer, are managed by the Teams user instead of being automated. Because Teams recording is not automatic, human error can cost your company dearly if a call is disputed. Without a recording of that call, your company has no proof of what was said or by whom.
Atmos performs automatic recording for all Teams calls, eliminating human error and securely archiving every call. As an added benefit to enhance your compliance, Atmos can also be configured with custom recording parameters to suit different needs, like agents spread across multiple locations. The more you can fine-tune your call recording method, the less likely you ever are to suffer the loss of data or revenue due to a compliance failure.
2. Microsoft Teams' storage doesn't meet compliance security standards
Microsoft Teams' SharePoint storage falls short of security standards regarding data deletion. The compliance platform can give you control over data storage location, which allows you to comply with data sovereignty laws. Several financial compliance regulations require customer data to be stored securely and within the territory in which the call was made. They also require the company to retain full control over the location of the data storage, as well as the transmittal, duplication, and deletion of customer data. Atmos gives users complete ownership and control over all recordings, whether in the cloud or on-site.
3. Recordings need a Central Storage location for secure sending and receiving
Teams recordings are not stored centrally, which means that your employees using Teams have complete control over the recorded call data. This includes downloading and sharing, which can quickly lead to compliance failures through a data breach. For authenticity, a call must remain in a secure storage facility, which is the only way to ensure a call has not been tampered with or altered.
Atmos captures calls directly from the Microsoft Azure space where the calls originated and stores them with military-grade encryption in that same Azure cloud. For total compliance, Atmos allows for the secure downloading or sending of recordings by giving each call its own unique encryption key.
This design provides security, auditability, sharing, and vital retention controls to keep your operation compliant.
4. It matters who said what
Microsoft teams audio recording doesn't provide a clear understanding of who was speaking on a call, nor does it provide a speech-to-text (STT) transcript. During an audit or dispute, your company will need to clearly demonstrate who said what.
Atmos can go beyond simply providing speaker identification and transcription. Atmos can collect all available call metadata, timestamp every single recording, perform AI-powered emotive analysis of each interaction, and lets you search your entire call volume for keywords and phrases. Atmos can even detect and grade crosstalk, an important metric when evaluating agent practices.
5.Teams might not be your only platform needing recording
Maybe not all your eggs are in one basket. For many reasons, companies deploy multiple VoIP technologies. Regardless of how many UC platforms your company uses, Atmos can capture and unify them into a single, searchable, compliant database. This highlights one of the most powerful reasons to maintain a separate compliance platform for your company.
For example, say your operation is laid out globally across a multi-tenant network, and you're rolling out Microsoft teams location by location. If you were to rely only on Teams' recording capabilities, you'll only be able to record Teams, or you'll have to rely on using more than one recording technology (likely resulting in 2 separate collections of call recordings). If you're using a third-party analytics platform, data management becomes even more complicated.
With Atmos, all recordings and analytics are managed under a single platform, giving you time to roll out your communications infrastructure as you see fit.
6. Resilience is a requirement
If you're using Microsoft's built-in recording capabilities in Teams, that recording is vulnerable to user error or hardware failure. This can result in a compliance breach because your recording scheme is not resilient.  Atmos can record your Teams interactions with fully resilient 2N recording capability, securely hosted in Microsoft's global Azure fabric. This combines the power of automated recording with redundancy and resiliency for recording and storage. In short, you will not fail to record any calls, nor will you lose them.
7. Recordings and agents—Keep 'em separated
With Microsoft's standard recording capability for Teams, recordings are downloadable and vulnerable to alteration by your employees. When your agents download a call without encryption, and worse, send it anywhere, insecurely, without encryption, your company commits a punishable, costly offense. That kind of compliance failure carries heavy penalties in the healthcare, banking, finance and multiple other industries.
Atmos allows you to configure who within your organization can see and handle call data. Further, calls are encrypted, compliantly shareable, and can even have all sensitive customer data scrubbed from them through an optional AI-driven PCI compliance feature. In short, no data thief should ever get their hands on your customers' credit card or personal identification numbers. Atmos locks every door to your customer data and lets you manage it in safety and compliance.
Yes, you definitely need compliance recording for Microsoft Teams
Without a doubt, Microsoft Teams usage has grown at an incredible rate. Adding Atmos as your compliance platform to your team's infrastructure does far more than give you the compliance tools you need for your industry. It unlocks enormous customer service benefits and business analytics. We think it's the perfect complement to your Teams-driven call center. Call us today to schedule a demo and to learn more about Microsoft Teams call compliance.